Custom development
If you're looking for a long-term reliable partner to realize new innovative ideas that will provide your customer with additional value and differentiate your business in a tough competitive environment, it is Sotex who delivers the result.
Our Customers
Our customers are choosing tailor-made solutions when they are unable to find suitable ready-made solutions on the market. This usually means support for specific business processes that create added value and provide competitive advantage to companies.
70+ unique projects
We have years of experience with customized development and have successfully completed more than 70 unique projects for small and medium-sized enterprises as well as international corporations.
You tell us what kind of a solution you need, how you want it to run, which business processes are involved for us to deliver a system exactly fitting your needs.
Web Application Development
Be it custom web app development from scratch, migration from your legacy application to a new solution or enhancement of the front-end functionality, at Sotex, we are eager to accept your web development challenge staying within time and budget limits.
Through the years, we have perfected our delivery processes and workflows to cope with constantly changing requirements and tight deadlines that are the hallmark of complex web development project. Our Scrum expertise was instrumental in successfully building new products for global brands, including ScotiaBank, Gazprom Neft, Killerspin and others.
How It Works?
We always keep in mind the idea of future business expansion, so your solution will be built scalable and flexible to be modified later as your business grows or transforms.
We usually suggest splitting the whole project into several iterations (well-defined periods of time with fixed goals and deliverables), which has the following advantages:
Transparency
Each iteration delivery is done on time and on budget
Reliability
Each delivery has to be accepted to confirm all the requirements have been met.
Time-to-market
Each delivery contains some of the expected functionality and can be put to use right away.
Sotex talent pool of mobile app developers includes highly-skilled analysts,UX experts and certified software engineers who are well-versed in building apps for all the major platforms-whether it's IOS, Android, or both. Apps can be developed naively, or by using platforms such as Cordova/PhoneGap or Xamarin.
All our specialists are on a high alert to deliver all-round custom mobile app development services, from consulting and project specification to integration, deployment and market release. We cover:
Consulting
Business analysis, applcication architecture, team selection and monitoring.
UX/UI Design
We cover all, from wireframes to high-fidelity prototype development
Mobile App Development
Native or cross-platform mobile application development
Mobile Testing
End-to-end functionality testing, scalability testing, different device testing, name it, we've got you covered.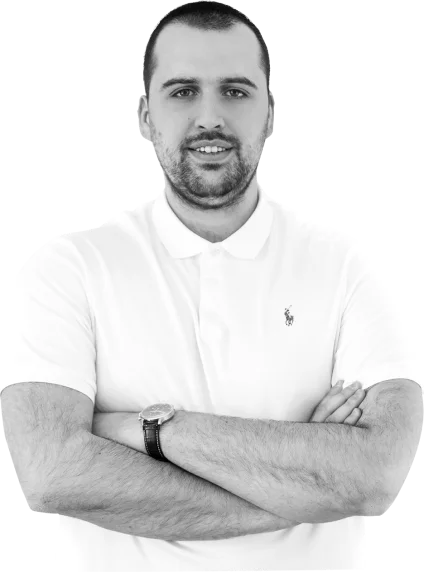 Danilo Aćimović
App Developer
How It Works?
Picking the right approach to mobile app development is a critical success factor that can make or break your project. Sotex mobile app developers typically use an agile, low-risk mobile development methodology that has a proven success record and ensures rapid results and 100% visibility.
Cross-platform development for mobile platforms is often a good way to cut development costs and bring your solution to the market faster. By developing a cross-platform app you make it immediately available on all major platforms, including iOS, Android, Web, and more.
Cross-platform apps are typically easier and less expensive to maintain due to the large code overlap between platforms, In the case of, code reuse can be as high as 90%.
Our pool of highly skilled mobile developers are well-versed in modern cross-platform tech stack, including Flutter, Cordova/PhoneGap and React Native, and will help you build your app on time and on budget.
With vast experience in software development, implementation, quality assurance and software support, our consulting and advisory services are built on a deep understanding of all business and functional requirements as well as ambiguous nuances of business workflows
Sotex team of consultants have the skills, methods and tools to help the client in adapting to the market demand and building up revenue through digital transformations. We back up our services with multi-year expertise, and it shows at every project stage: Planning > Implementation > Maintenance
01
Planning Stage
Drafting and revising the strategy
Selecting the platforms
Mapping business requirements to features
Planning releases for iterative solution improvement
02
Implementation Stage
Platform-based solutions or custom development
Integration
Data migration
03
Maintenance Stage
There's always room for more growth, and Sotex is ready to uphold the craving for improvements, be it new functionality or better interoperability, performance, usability, scalability and bug fixing.
Thinking about extending your technical delivery department with a nearshore team that is fully dedicated to you? This is what we call "Team Extension". Sotex has mastered the process of engaging and developing highly qualified technical talent.
We understand what makes a great engineer, and know where to find them. If you are looking for reliable software development team, our existing talent pool and our recruitment capacity are here to fulfill your needs.